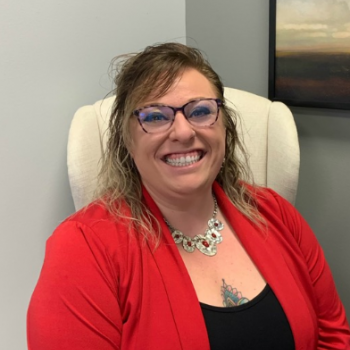 Danielle (Dani) Majors is our Payroll Coordinator and supports our Iowa offices.   Dani came to the Universal Pediatrics team with a well-rounded employment history consisting of experience in payroll, Human Resources, office management, and accounting.  She brings with her an upbeat attitude, a joy for laughter and a keen attention to detail!  Dani likes to get the job done right and be efficient in doing so.   When she's not crunching numbers at work, she enjoys spending time with her family and pets, writing, gardening, cooking and baking, and doing anything outdoors!
We asked:
What's the best part of your job? The overall care and concern for how we treat others from my co-workers. It is refreshing to work for a company that encourages this kind outlook and approach to people.  
What can you not live without? Family (including my 1 year old German Rottweiler, Grizzlee, and my cat, Mangey), friends, coffee, and my house plants (which all have names and personalities to match)!
What is your favorite Universal Pediatrics memory? From the stories I hear and smiles I see when company events are discussed, I look forward to being a part of the team comradery and meeting all the different office staff. 
What is your favorite sports team? Go Chiefs!! And Go Hawkeyes!!